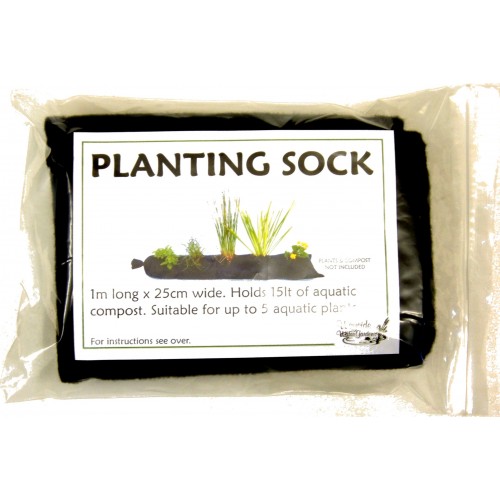 Planting Sock
Ex Tax:

£5.79

---

6 or more

£6.25
Exclusive to Wayside Water Gardens
Planting Socks are a cost-effective way of planting Marginal pond plants in your pond, and offer a great alternative to the traditional pond basket that pond plants come supplied in or which are readily available from all aquatic shops.
The main advantage of these planting socks is they are great at stopping the compost from floating away in the pond and clouding the water, and they prevent fish from digging in the plant baskets.
The non-rot fleece material allows the water to pass through easily so your plants are able to absorb the nutrients from the pond water the same as if they were in an aquatic basket.
Used often by landscape contractors or the general public with larger than average ponds.
To use:
Simply fill the Planting Sock with Approximately 15 litres of aquatic compost
Secure the open end with the tie wrap provided
Cut up to 5 cross-shaped incisions into the sock allowing enough space to insert your plant and making sure the plants will have enough space to grow
Push your marginal plants into the compost and compact with your fingers
Place the Planting Sock into 4"-8" of pond water
You may also be interested in our unique
Lily Sack
which protects water lilies from larger fish.
Tags: Plant Products, wildlife ponds,