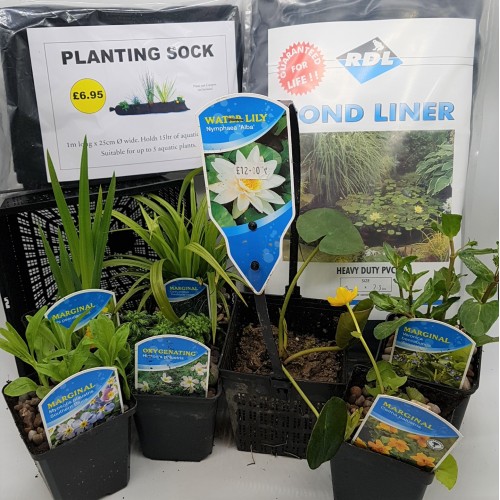 Wildlife Pond Starter Kit - #2
Product Code: Wildlife Pond Starter Kit - #2
Wildlife Pond Starter Kit #2
A starter kit for a small wildlife pond. This comes with a variety of British native plants. Oxygenating plants filter the water, water lilies provide shade and habitat with their pads on the surface and marginals attract pollinating insects and provide further habitat. This kit has a bit of everything to start your pond off!
Contains:
Flexible Heavy Duty PVC Liner 3m x 2.5m (0.5mm thick) x 1



Water Lily in 1L basket x 1 (Nymphaea Alba)
Marginal Plants in 9cm baskets x 5 (Marsh Marigold, Yellow Flag Iris, Water Forget-Me-Not, Pendulous Sedge, Brooklime)
Oxygenating Plant in 9cm basket x 1 (Water Violet)
Oxygenating Plant Bunch x 1 (Hornwort - not pictured)
Hornwort is currently unavailable so this will be substituted for either Water Crowsfoot or Water Starwort, depending on which is looking best at the time. If you have a preference, please let us know.

We recommend repotting the water lily into the 2.5L Basket, then re-using its supplied 1L basket to pot the rooted oxygenating plant(s). The planting sock in this kit is for the 5 marginal plants. Use either aquatic compost, lime-free pea gravel, sand or clay-based garden soil, whichever you have readily available (aquatic compost can be purchased separately if required). Place the sock on a shelf 4"-8" deep, and the lily 18"-24" deep.
If you would like to substitute any of the oxygenating/marginal plants for others that we stock, please mention this in the notes when you place your order and we will do our best to accommodate your request.
Please note this setup is not suitable for fish.
Tags: Wildlife Pond Starter Kit