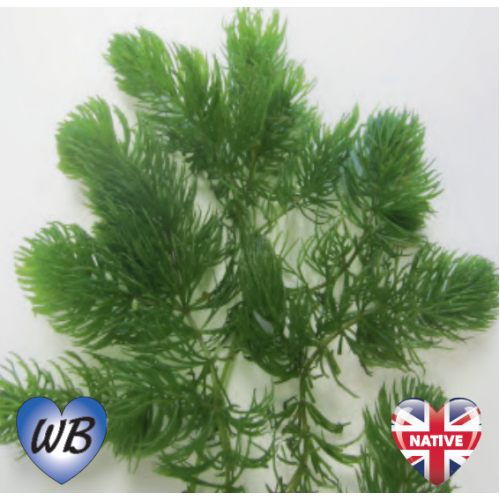 Hornwort (Ceratophyllum demersum) - Bunch
Product Code: Plant Oxy Hornwort - Bunch
Hornwort
Ceratophyllum demersum

A very good oxygenator and can grow to great depths so is ideal to put in lakes and ponds. It is a free floating plant but weighting helps secure the plant in the required location. Hornwort has foliage that resembles small horns from the Greek "Ceratos" (horn).
This plant is evergreen and will retain some stems/leaves throughout winter.
The recommended depth in water is calculated as the distance between the top of the basket and the water surface. Therefore "0" would be the basket rim at the water surface.
| | |
| --- | --- |
| Plant Type: | Oxygenator - Weighted Bunch |
| Recommended Depth: | 30-150cm |
| Max. Height: | Flowers above the surface only. |
| UK Native: | Yes |
| Good For Pollinators: | No |
| Winter Hardy: | Yes |
| Position: | Full Sun / Part Shade |
| Flowers During: | May - July |
| Growth Speed: | Medium |
| Basket Size: | No basket - supplied as a bunch. |
This is available for posting as well as Click & Collect. Please note that the foliage may be trimmed on postal orders to safely fit the plant(s) in the box.
Postal orders containing plants despatched on Mondays (Tuesday if bank holiday). Click & Collect plant orders are available for collection the next day.
We have a broader range and more established plants available for purchase at Wayside during shop opening hours. Aquatic soil/compost is only available instore and via Click & Collect due to weight.
For larger orders, or if you are interested in any pond plants that are not currently on the website, please get in touch and we will do our best to accommodate your request.
Tags: Plants, Native, Oxygenator, Evergreen