Please Note: This product is only available for collection, please contact us to enquire about local delivery.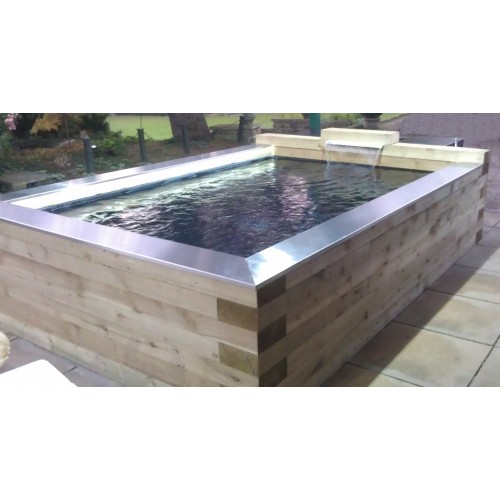 Timber Pond Kit 4.4m x 3.2m x 1.1m inc Nexus 220
Timber Pond Kit (internal measurements) 4.4m x 3.2m x 1.1m Deep (1m water depth)

The pond holds 14000 Litres (3100 Gallons)
This pond is suitable for Koi Carp
This timber pond kit uses softwood, pressure treated timbers which will stand the test of time against warping and ageing, the kit also includes a box weld liner so there will be no creases in the finished pond giving you a flawless finish. In addition to the pond walls and liner, this kit also includes a perfectly matched filtration system with a UVC to stop the water from going green. The filtration system on this pond is the Nexus 220 by Evolution Aqua, a brand leader in filtration for large pond ponds - excellent for highly stocked koi ponds. In addition, this set also includes an industry-leading Oase pump and a 55w UVC to stop the water from going green. This pond uses a gravity-fed system so the water enters the pond again with pressure - included in this set is a venturi kit which will add additional oxygen to the pond as the water returns to the pond without the requirement of a further air pump.
Construction advice:
Make sure the ground when the timbers will be laid is completely flat before starting, this will ensure you have an even water level when the pond is full. The base layer of timbers are just laid on the ground and the next row is fastened into them. Included in the kit are timber screws (200mm) which fasten each timber to the below timber making an extremely strong and rigid structure by the third row. (Full assembly instructions can be accessed at the bottom of this page.) The liner flange will need to be sandwiched between the very top 2 layers of timbers. Ensure when fitting the liner that there are no stones, roots or anything else sharp on the base of the pond as this is where the weight of the water will be. Anything sharp will cause the weight of the water to puncture the liner if not removed before laying the liner.
We have a sample pond set up at our shop in Oldcotes, Nottinghamshire (pictured) if you did want to come and see the pond working and ask further questions about setting up before purchasing.
Items supplied in this kit to make the basic pond:
82 - 2.4m x 200mm x 100mm Pressure treated timbers
280 - 200mm timber fixings (hex drive, bit included)

4.4m x 3.2m x 1m deep E.P. Butyl Rubber box welded liner 1mm thick (with 200mm flange all round)

Evolution Aqua Nexus 220 Biological Filter

Evolution Aqua Nexus 220 Lid

VariFlow Pump 20,000

Kockney Koi Yamitsu 55w UVC Unit

Yamitsu 4" Sump Bottom Drain

3m - 4" Solvent Weld Pipe

1x 4" Rubber Boot 90 Degree Bend

1x 1.5" Solvent Weld Venturi

1x 1.5" Solvent Weld Tank Liner Connector (inc. 2x Hosetails)
3m - 38mm Heavy Duty Flexible hose
4x 38mm Hose Clips
Optional accessories can be used to enhance the look of your timber pond (all available at extra cost) such as:

Stainless Steel Toppers
LED lighting
All items to make up this timber pond kit are available for local delivery at extra cost, or via click and collect when purchased online from our shop in Oldcotes.
Wayside Water Gardens Timber Pond Kits can be supplied at just about any size, this is just one of our more popular options.
For more information regarding this pond, please call us on 01909 731367
Click here for further Construction Recommendations
Tags: Timber Pond Kits