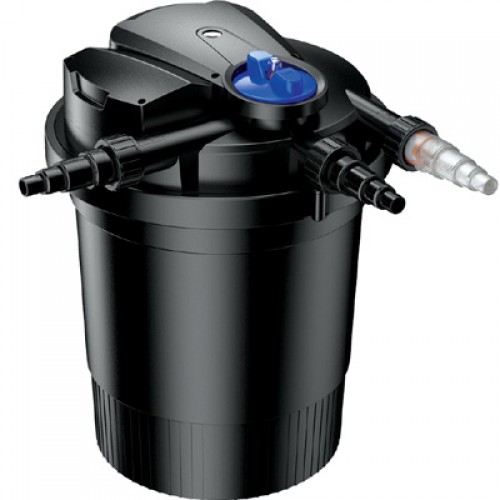 PondXpert SpinClean Auto 12000 Pressure Filter
This new range of affordable and easy to maintain filters from PondXpert are becoming really popular among pond keepers. These pressurised units can be installed at any level of the filtration system. Powered by the pump all the way through, the water is able to travel upwards after exiting the filter so you can create a lovely waterfall without having a large box visible at the top of it. This filter is best used with a solid handling filter pump that sits in the pond and has a strong enough motor to put all the water in the pond through the filter once an hour.
Important: The UV Bulb in this filter will need replacing each spring to ensure the filter is effective all year round.
Motorised Self-Cleaning Filter
The latest development in pond filter technology, the Spinclean AUTO advances upon our standard Spinclean model by introducing a motorised cleaning function. Once the filter has become full of dirt, the red cleaning indicator will display. From there, simply switch off the pump and turn the outlet to 'waste'. The cleaning paddle will then be activated for three minutes, clearing the foam of debris. From there, switch the pump back on to remove the remaining dirty water. This super easy-clean feature reduces the frequency of a full clean. The dislodged waste exits the filter via the waste outlet. Removes the physical effort required with other pond filters.
Features:
Solid build quality
Tap on waste discharge valve to prevent leaks
UVC On indicator
Waste indicator pops up when the filter needs cleaning
Automated motor cleaning eliminates manual effort
Specification:
Max Pond Size - 12000 litres (Empty)
Max Pond Size - 6000 Litres (Fish)
Max Flow - 8000 LPH
UV Wattage - 13w (PLS)
Inlet Size - 25-38 mm
The filter sponges in this filter will need to be replaced every 2-3 years, or sooner if they no longer hold their full original shape.
Pond Filter Details
For Nature Ponds (No Fish) up to
12000 Litres / 2600 Gallons
For Fish Ponds up to
6000 Litres / 1300 Gallons
For Koi Ponds up to
3000 Litres / 660 Gallons
UVC Wattage
13w (PLS)
Maxium Flow Rate
10000 LPH
Guarantee Length
2 Years
Dimensions
38 (L) x 38 (W) x 52 (H) cm
Cable Length
3m
Inlet Pipework
25/32/38mm Flexible Hose
Outlet Pipework
25/32/38mm Flexible Hose
Tags: Pressure Filters