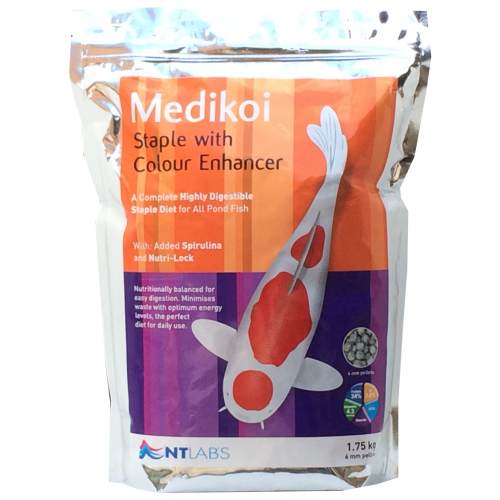 NT Labs MediKoi Staple with colour enhancer 1.75Kg 6mm
Brand: NT Labs
Product Code: NT Labs MediKoi Staple with colour enhancer 1.75Kg 6mm
Medikoi Staple is a highly digestible, complete feed for all pond fish, perfect for everyday feeding. The high-quality ingredients have been specifically designed to be easily assimilated and metabolised by your fish, resulting in maximum food conversion, colour enhancement and minimum waste to ensure water quality remains at optimal conditions. Medikoi Staple is also packed full of vitamins and minerals to keep your fish healthy throughout the year.
Contains key components:
Medikoi Staple is enriched with spirulina, packed with natural colour-promoting carotenoids. It is a well documented colour enhancer which has been used by Japanese koi breeders for many years, and will dramatically intensify the colour definition and vividness of your fish.
Recommended feeding:
Medikoi Staple can be fed throughout the pond season.
For an even greater variety of vitamins and additives, feed Medikoi Staple in conjunction with any of our other Medikoi foods as part of a standardised feeding programme.
Feed twice daily in the warmer months, a quantity that fish will likely consume within 10 minutes.
Feed once per day in the cooler months, or feed Medikoi Wheatgerm with Garlic.
Do not feed if fish are dormant in very cold weather below 8°C.
Do not overfeed.
Keep contents sealed in original packaging away from direct sunlight. Store in a cool, dry environment.
Are you feeding your fish the right food for this time of year? Check the Medikoi Feeding Guide!
Specifications
Composition
Wheat, Soya, Sunflower Meal, Wheat Gluten, Lucerne Protein, Monocalcium Phosphate, Spirulina, Yeast-derived Product (Stimune), Bentonite, Algae.
Analysis
Protein 34%, Fat Content 3%, Crude Fibre 2.8%, Inorganic Matter 7.1%.
Additives
Per Kg: A 10000 IU, C 150 mg, D3 3000 IU, E 200 mg, EEC permitted colorants and antioxidants.