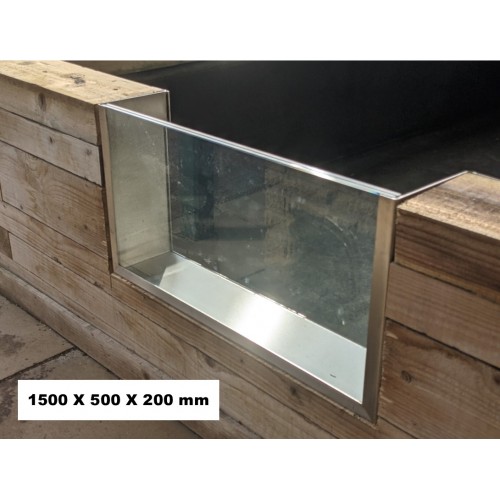 Koi Pond Viewing Infinity Window 1500 x 500 x 200 - PREORDER
Ever fancied a Koi viewing window in your pond? Well, now it's possible from Wayside Water Gardens. Our bespoke Koi viewing windows are manufactured here in the UK to your own size. Using the finest quality stainless steel and strong laminated glass they can be fitted to new ponds or retrofitted to our popular Timber Ponds. Having a large flange all round it makes ideal fixing to flexible rubber pond liners and secured with M8 stainless steel nuts.
Our windows come with the glass already fitted and sealed so there's no chance of the window leaking. To fix to the rubber liner, there is a stainless steel backplate which sits on the inside of the pond and clamps the liner between the window frame and the backplate with the stainless steel M8 nuts, we recommend using Oase Unifix to provide additional security again leaks on between the backplate and the pond rubber liner.
This Window measures 1500L x 500H x 200mmD and is pre-fitted with 25mm laminated glass
A 5mm tolerance should be allowed all the way around the window for the best possible fit.
These items are custom made and may take up to 4-5 weeks to be kerbside delivered/collected
For more information call us on 01909 731367