Sale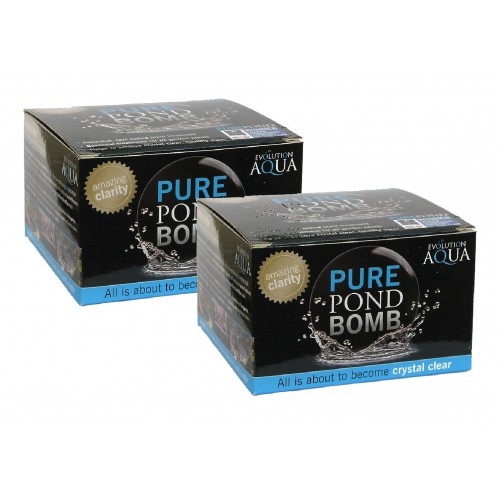 Pure Pond Bomb is ideal for use in Koi ponds, ornamental ponds, self-contained water features or ponds which do not have conventional filtration, to achieve crystal clear, healthy water. Inside the PURE Pond Bomb, there is a unique combination of friendly bacteria and enzymes, which get to work as soon as the Bomb hits the water to clean up organic waste and break down the ammonia and nitrite, leaving your pond crystal clear and healthy.
One Pure Pond Bomb is effective on ponds up to 20000 litres. Simply drop the Pure Pond Bomb into your pond filter as and when necessary. The bacteria and enzymes will react to the biological issues within your pond. You cannot overdose with the Pure Pond Bomb. When starting up a new filter, simply drop the Pure Pond Bomb into the biological stage of your filter. The high concentration of bacteria will help to remove the harmful ammonia and nitrite, allowing the filter media to mature.
To use:
For best results drop the entire contents of this tub into your pond filter or directly into your pond.
Pure Pond Bomb is not intended to clear green water. It is recommended that an appropriate UV is used to eradicate green water.
You cannot overdose the pond with Pure Pond Bomb
Pure Pond Bomb is a natural product therefore it is perfectly normal that the ball may vary in size, colour and opacity. The colour of the liquid in the tub may also vary due to the nature of the product. None of this will affect the performance of the product.
Contains: 2x Pond Bombs - treating 40000 Litres (8800 Gallons)


Treatment Details
Total Bottle Treats
40000 Litres / 8800 Gallons
Dosage
1 Pond Bomb = 20000 Litres (4400 Gallons)
Treatment Frequency
Weekly if Needed
Switch off UVC
No
Minimum Water Temperature
N/A
Suitable for Sturgeon and Orfe
Yes
Tags: Bacteria Starters