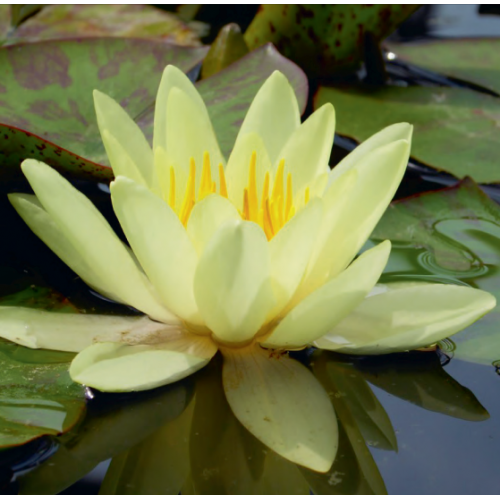 Chromatella Water Lily - 3L
Product Code: Plant Lily Chromatella - 3L
Chromatella Water Lily
Nymphea xmarliacea / marliacea 'Chromatella' syn 'Golden Cup'

The mottled, olive-green leaves of this majestic water lily provide the perfect setting for its primrose-yellow blooms, which have bright golden stamens. Will bloom in part-shade.
This lily is pre-planted into a 3L pot - ready to place straight into your pond.

This plant will die back to its basket for winter, and begin growing again in the spring. Trim off brown stems/leaves in the autumn to tidy it up. To encourage growth in the spring of young lily plants, raise them to shallower water by placing on a shelf or positioning an upturned spare basket underneath (approx. 30cm from basket rim to water surface). This helps sunlight reach the crown of the lily so it has more energy to send the initial leaves to the surface.
Water lilies require still water to flourish, so avoid placing near a waterfall or fountain.
The recommended depth in water is calculated as the distance between the top of the basket and the water surface. Therefore "0" would be the basket rim at the water surface.
Example plant photo taken March 2021. This plant has only just begun growing this year. As the season progresses, plants will be sold with more growth on show.
| | |
| --- | --- |
| Plant Type: | Water Lily |
| Recommended Depth: | 30-90cm |
| Max. Spread: | 75-90cm |
| Leaf Size: | 20-23cm |
| Flower Size: | 10-14cm |
| UK Native: | No |
| Good For Pollinators: | No |
| Winter Hardy: | Yes |
| Position: | Full Sun / Part Shade |
| Flowers During: | June - September |
| Growth Speed: | - |
| Basket Size: | 3L |
This is available for posting as well as Click & Collect. Please note that the foliage may be trimmed on postal orders to safely fit the plant(s) in the box.
Postal orders containing plants despatched on Mondays (Tuesday if bank holiday). Click & Collect plant orders are available for collection the next day.
We have a broader range and more established plants available for purchase at Wayside during shop opening hours.
For larger orders, or if you are interested in any pond plants that are not currently on the website, please get in touch and we will do our best to accommodate your request.