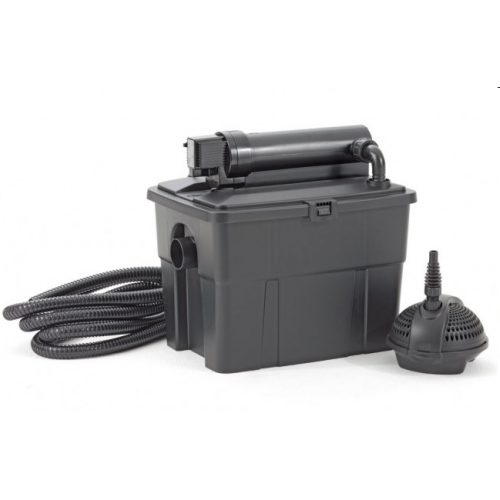 Pontec Multiclear Set 5000
Brand: Pontec
Product Code: Pontec Multiclear Set 5000
Pond filters are crucial in maintaining a healthy pond, and a must if you have fish and plants, as a filter helps your pond establish a proper biological balance.
The Pontec MultiClear Set 5000 Kit will keep your pond clean and water clear by using a combination of mechanical and biological filtration media and 7w UV light to clear algae.
The kit contains a high quality 1500 Lph pump, an efficient UV bio box filter with Japanese matting, coarse and fine filter foams (inlet 15, 20, 25mm, outlet 50mm), 3 metres 20mm black hose. 10 metres of rubberised outdoor cable on the pump and 5 metres on the 7 watt UV lamp.
Suitable for nature ponds up to 5000 litres.
Suitable for fish ponds (not Koi) up to 2500 litres.
2 Year Guarantee (excluding impellor/shaft and UV lamp). 

Need a replacement U.V. bulb? Click Here
Need a replacement foam set? Click Here