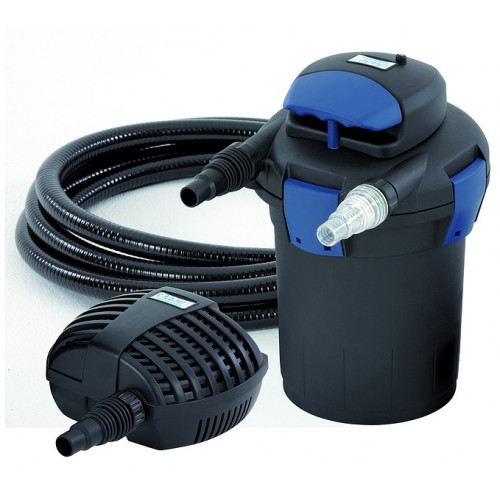 Oase BioPress Set 6000
Brand: Oase
Product Code: Oase BioPress Set 6000
Dimensions in mm (Ø x H)
350 x 450
Integr. UVC / power consumption in watt
9
Inlets and outlets in inch
¾'' – 1½''
Inlet stepped hose adapter in inch
¾'' – 1½''
Number of filter foams blue
2
Number of filter foams black
1
Cable length in m
3
Suitable for ponds with fish stock
3000 l
Suitable for ponds up to max.
6000 l
Guarantee
2 years

 

Pump flow rate (max)
2500 lph
Power consumption in watt (pump)

 

40

 

Hose supplied
5m  1"
 Product details
Guaranteed clear water thanks to mechanical-biological cleaning combined with effective UVC technology.
Incl. OASE filter pump 2500/3500.
Easy and convenient cleaning of the filter via the cleaning mechanism.
Quick-release provides easy filter opening and closing for maintenance purposes.
Different filter materials for optimal settlement of filter biology.
It can be almost completely buried for almost invisible integration in the water garden.
Higher elevated watercourses can be supplied with cleaned water.

 

Includes all hose connections for fast installation.

Need a new U.V. bulb for this filter? CLICK HERE.