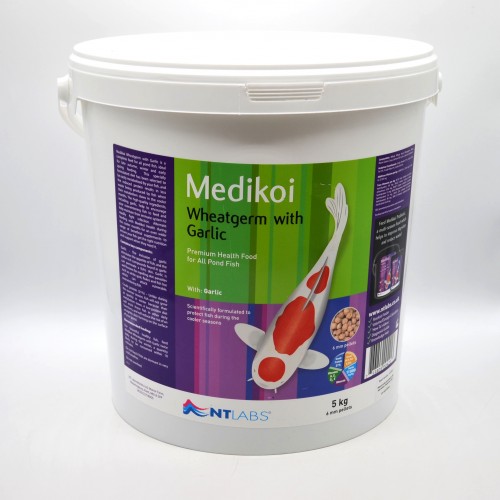 NT Labs MediKoi wheatgerm with garlic 6mm 5kg
Brand: NT Labs
Product Code: FISH FOOD NT Wheatgerm 6mm 5kg


Medikoi Wheatgerm with Garlic is a complete feed for all pond fish, ideal for late autumn, winter and early spring feeding. This specially formulated diet has been selected to be easily metabolised by your fish, and the reduced protein results in less waste being produced by fish when their metabolism slows in the cooler months. The high-quality ingredients, including garlic, help to encourage your overwintering fish to feed and help maintain their immune system to readily fight infection. Alternate feeding with Medikoi Health during the cooler months for an even wider range of beneficial supplements to ensure your fish get the right nutrition and support when they need it.
Contains key components:
Garlic – The inclusion of garlic stimulates the appetite of fish, and the sulfur-rich compounds found in garlic can permeate a fish's skin. Garlic is well-known for repelling skin parasites such as white spot, flukes and fish lice which can attack vulnerable, overwintering fish.
Protein (21%) – Unlike during the warmer season, fish will not grow as quickly in winter because their metabolism slows. A low-protein diet will assist these fish in other daily functions, and will reduce the risk of an unsightly slick forming on the surface of your pond.
Recommended feeding:
For beautiful, healthy fish, feed Medikoi Wheatgerm with Garlic twice daily during the winter, a quantity likely to be consumed within 10 minutes.
Do not feed if fish are dormant in very cold weather.
Do not overfeed.
Are you feeding your fish the right food for this time of year? Check the Medikoi Feeding Guide!
Specifications
Composition
Wheat, Wheat Feed, Wheatgerm, Maize, Maize Gluten, Soya, Salmon Oil, Garlic, Calcium Carbonate.
Analysis
Protein 21%, Fat Content 5%, Crude Fibre 5%, Inorganic Matter 6%, Moisture 8.5%.
Additives
Per Kg: Garlic 11000 mg, A 28875 IU, C 675 mg, D3 2165 IU, E 205 IU, EEC permitted preservatives and antioxidant
Fish Food Details
Brand
NT Labs
Pellet Size
6mm
Bag Weight
5kg Bucket
Buoyancy
Floating
Protein Content
21%
Season
Autumn, Winter, Spring.
Tags: Floating Pellet Autumn Winter Fish Food NT Labs MediKoi wheatgerm with garlic 6mm 5kg