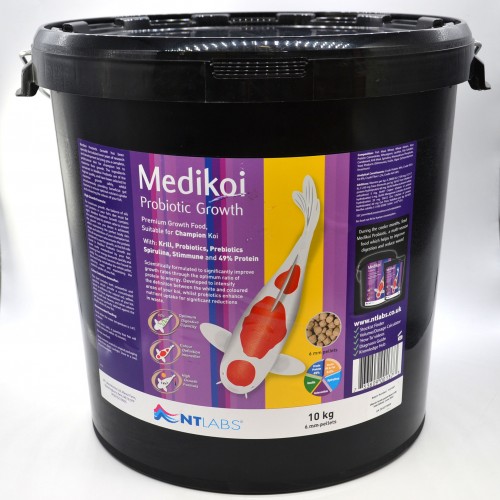 NT Labs MediKoi Probiotic Growth 10Kg 6mm
Brand: NT Labs
Product Code: FISH FOOD NT Probiotic Growth 6mm 10kg
Medikoi Probiotic Growth has been specially formulated over years of research and development to bring you a complete, professional diet for champion koi to maximise their growth. The ingredients contained in Medikoi Probiotic are of the highest quality, and have been selected to maximise growth safely, whilst simultaneously providing beneficial gut bacteria to ensure optimal nutrient uptake and enhancing the colours of your fish.
High Growth Formula:
For maximum growth, the balance of oils and proteins in your fish's diet must be right. Medikoi Probiotic Growth contains the optimal lipid to protein ratio to ensure the growth rate you desire is achieved, whilst maintaining the perfect body size, shape and definition of your champion koi. This all-important ratio ensures the protein contained is used for growth, as the fish oils found in Medikoi Probiotic Growth are more easily metabolised by your fish, meeting their energy demands quickly and easily. The probiotic bacteria also found in this feed help metabolise the whole pellet, reducing waste and maximising the nutrient uptake of your fish.
Colour Definition Intensifier:
This feed includes a rich source of spirulina which provides a concentrated boost to enhance the natural red, yellow, black and blue pigmentations of your koi. Whites will look cleaner, and other colours will become perfectly defined against the bright white of your koi.
Recommended Feeding:
Feed when the water temperature is 14°C or above.
Feed twice daily, a quantity that fish will likely consume within 10 minutes.
Do not overfeed.
Keep contents sealed in original packaging away from direct sunlight. Store in a cool, dry environment.
Fish Food Details
Brand
NT Labs
Pellet Size
6mm
Bag Weight
10kg
Buoyancy
Floating
Protein Content
49%
Season
All Seasons
Tags: Floating Pellet Fish Food NT Labs MediKoi Probiotic Growth 10Kg 6mm