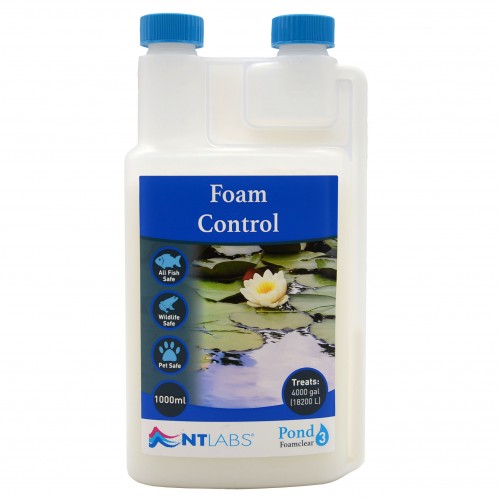 NT Labs Foam Control 1L
Brand: NT Labs
Product Code: T&T NT Labs Foam Control 1L
NT Labs Foam Control (Foamclear)
For the treatment of unsightly foam and froth on the surface of your pond. Often this is due to an excess of protein in the water.
Foam Control will breakdown the froth, allowing good gas exchange between the water and air and helping to maintain the correct PH.
All Fish Safe, Wildlife Safe and Pet Safe.
How to use?
- Shake bottle well.
- Mix the correct dose in a clean bucket of pond water, add gradually, pouring evenly around the pond.
- If there is a lot of foam constantly present, test your pond water with one of our test kits here and reduce the amount of food fed. A partial water change and the addition of beneficial bacteria will aid the filter in getting on top of the issue.
Dosage
10ml per 40 gallons (182 litres)
The whole bottle of 1L will treat 4000 gallons (18,200 litres)