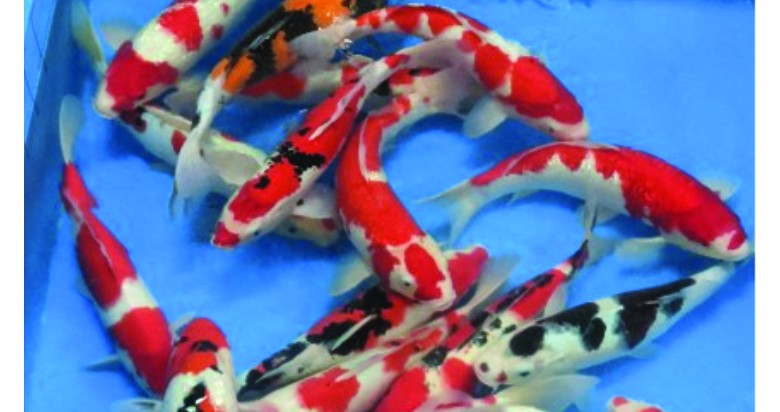 Simon has now returned from a very successful Hand Picked Koi trip from Israel. This year, a record amount of 68 boxes of fish will be winging their way back to the UK next week and will be settled into our brand new quarantine systems for a few weeks before being brought out for sale. We have a huge range of fish arriving including Kohaku, Sanke, Showa, Utsuri, Tancho, Chagoi and Asagi just to name a few. The smallest fish, as usual, will be 3-4" and the largest this year will be 24" - all fish over 12" will be sold at a handpicked price and displayed in our koi pond on site. We will also have a huge range of koi which are 5-6" and 7-8" along with our usual great stocks of sturgeon, grass carp, goldfish, orfe rudd and tench.
Below, a stunning Tancho that will be for sale at Wayside from March 2020:
For the first time ever this year, we will be having a Koi open day which will give you the opportunity to see and reserve that special Koi from our new quarantine systems (date to be confirmed). This means you can see all of the fish available rather than just the current selection in our sale ponds. This access all areas day will allow you the largest choice of fish ever seen at Wayside Water Gardens and all also allow you to see how we work behind the scenes to provide you with high quality and healthy fish throughout the entire season.
Why you're visiting our holding systems, make sure to ask about the new systems we spoke about a few months ago which will be filtering many of the holding ponds you'll be viewing. All of our ponds are isolated systems so there is no risk of any infections transferring between our systems.
Call us today to ask about our koi for 2020 on 01909 731367
Click on our Facebook link to see all of the videos from Simon's trip to Israel and the latest koi fish which are out for sale.