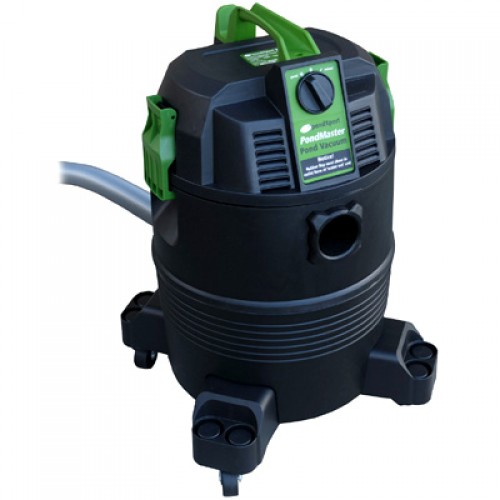 PondXpert PondMaster Pond Vacuum
We're delighted to be able to offer to you the best value pond vac we have ever seen. Despite the low price, this vac offers better features than any other budget pond vacuum on the market today.
Suitable for small and medium ponds.
1400w power - sludge and leaves removal
35L volume & sucks dirt up to a maximum depth of 2m (6' 6")
Three different head nozzles to suit any shape pond
Includes four swivel wheels for easy location
Automatic empty function once full
This pond vac comes with an extra-large high capacity chamber (35 litres) and extra power (1,400 watts). This is an auto vac hoover, so it will turn on and off to empty automatically. Make sure that the discharge hose is always pouring onto the drain away to avoid dirty water going where you don't want it unexpectedly.
3 quality nozzles included:
1 x wide nozzle for big areas
1 x small crevice nozzle for hard to reach places
1 x adjustable nozzle 2-10mm
The pond vacuum can be used to suck up dirt and debris from the pond floor to a maximum depth of 2m (6' 6"). The inlet hose can be extended by attaching additional hose pieces (two of which are translucent so you can see debris as it disappears up the hose).

Features:
Voltage: 230V~50Hz
Wattage: 1,400w
Guarantee: 2 years
Power cable length: 4m
Max. operating depth: 2m (6'6")
Chamber capacity: 35 litres
Discharge hose dia.: 46mm
Discharge hose length: 2m
Suction tube dia.: 35mm
Suction tube length: 4m
Suction tube extension length: 4 x 48.5cm
Use indoors or outdoors
Four swivel wheels
Three head nozzles
Auto-empty
Tags: Pond Vacs