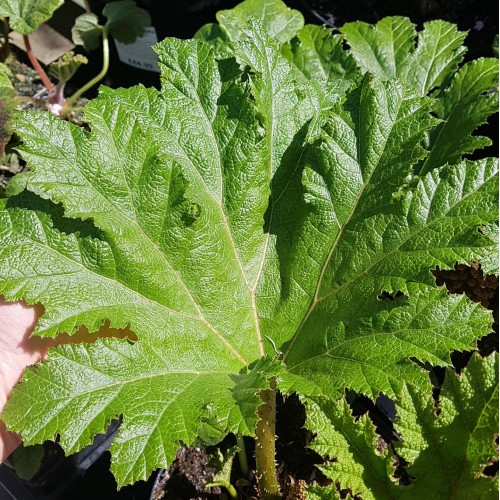 Gunnera Manicata - 1L
Product Code: Plant Ferns Gunnera Manicata - 1L
Giant Pricky Rhubarb
Gunnera manicata

This giant plant has the largest leaves of any plant grown in the UK. The leaves are borne on long, stout, prickly stems and can grow to well over a meter in diameter. It has green/red club shaped flowers that are about 70cm long.
This plant will die back to its roots for winter, and begin growing again in the spring. Gunnera's overwinter best when the brown leaves are left over the crown as a protective barrier to frosts.
This is a bog garden plant, therefore will grow in damp ground conditions only. Do not put this directly into a pond.
| | |
| --- | --- |
| Plant Type: | Bog Garden |
| Recommended Depth: | Damp Ground Only (not in pond) |
| Max. Height: | 150-300cm |
| UK Native: | No |
| Good For Pollinators: | No |
| Winter Hardy: | Yes (if crown protected) |
| Position: | Full Shade / Part Shade |
| Flowers During: | July - August |
| Growth Speed: | Fast |
| Pot Size: | 1L |
This is available for posting as well as Click & Collect. Please note that the foliage may be trimmed on postal orders to safely fit the plant(s) in the box.
Postal orders containing plants despatched on Mondays (Tuesday if bank holiday). Click & Collect plant orders are available for collection the next day.
We have a broader range and more established plants available for purchase at Wayside during shop opening hours.
For larger orders, or if you are interested in any pond plants that are not currently on the website, please get in touch and we will do our best to accommodate your request.
Tags: Plants, Bog Garden