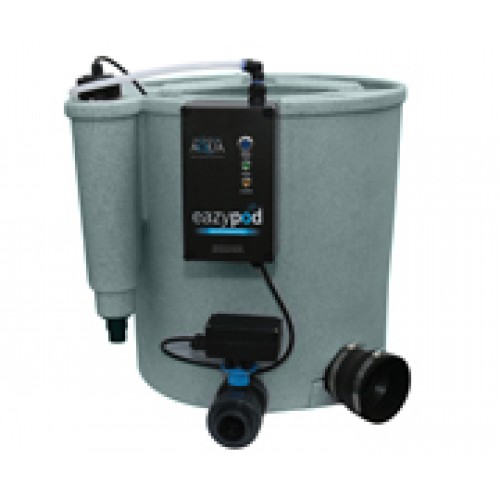 EazyPod Complete Automatic
The EazyPod Automatic is the complete mechanical and biological filter system for garden ponds up to 20,000 litres or Koi ponds up to 10,000 litres. The EazyPod Automatic was introduced in May 2017 to take the hassle out of having to manually, regularly clean the filter. The inlet on the new EazyPod Automatic features a 1½" hosetail. The waste on the EazyPod Automatic has a connected automated ball valve which is controlled by the control unit and will perform a cleaning proccess once every three days or at any time if you press the manual clean button. The power the your recirculating pump is cut off during the cleaning cycle. Intergrated into the control unit is a 28 lpm air pump which aggitates the K1 Mico media.
This model is not suitable for bottom drain supplied pond water.
It is reccommended to fit a non-return valve between pump and filter to save any run back of dirty, filter water.
Not suitable as a gravity fed filter.
| | |
| --- | --- |
| Maximum feed rate | 100g per day |
| Max. flow rate | 10,000 Lph  (2,200 Gph) |
| Max pond size for ornamental fish | 20,000 Litres (4,400 Gallons) |
| Max pond size for Koi | 10,000 Litres (2,200 Gallons) |
| K1 Micro media | 18 litres |
| Integrated Air pump |  28 lpm |
| U.V. Fitted | 18watt PLL |