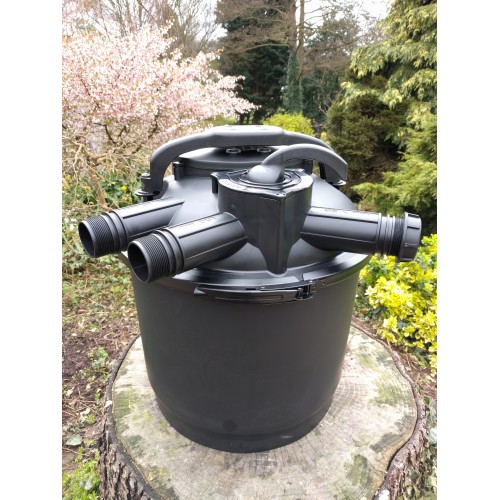 Lotus Green Reset 60
Product Code: Lotus Green Reset 60
Lotus Green Reset is a new range of pressure filters from Lotus Water Garden Products designed for larger ponds.
These new pressurised UVC Bio -Filters are available in two models;
Green Reset 60
Green Reset 100
First the water is forced through the sponges (mechanical filtration) and then through the Bio-Balls (Biological filtration). These actions, combined with 2 x 20w UVC clarifier lamps, achive crystal clear pond water.
What makes the Green Reset unique is how it simplifies maintenance operations. Anyone can carry them out in just 3 easy steps!
Lift the handle on the top of the cover
Turn the lateral grip handles in the "cleaning" position, then turn the flow selector handle.
Push the big handle down so as to squeeze the internal sponges, and repeat several times until the exiting water starts to run clear.
Return handles to their original positions.
Suitable for ponds;
Nature ponds; 20000lts (4400gallons)
Goldfish ponds; 10000lts (2200gallons)
Koi ponds; 5000lts (1100gallons)