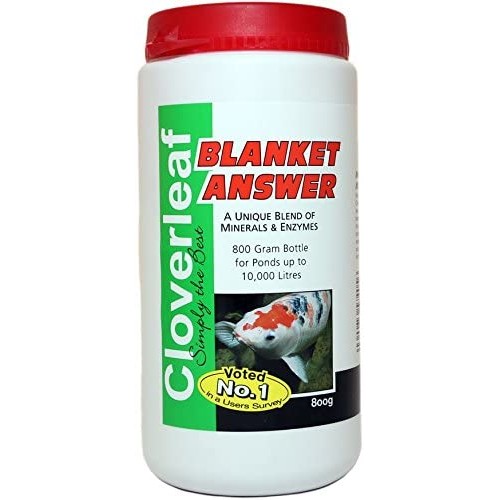 Cloverleaf Blanket Answer 800g Blanket Weed Treatment
Brand: Cloverleaf
Product Code: T&T Cloverleaf Blanket Answer 800g Blanket Weed Treatment
This product will treat a pond size of 10000 litres or 2200 gallons

Readers Choice Award Winning Product!
Blanket Answer is a unique blend of minerals and enzymes. The special formula works where many bacteria cultures fail. It is 100% safe for all pond fish, plants, and biological filtration systems. UV units or protein skimmers do not be switched off with this treatment unlike other products on the market. Blanket Answer is simply added to the pond by pouring the mixed powder and pond water from a designated watering can evenly over the surface. The pond will initially take on a milky white appearance, but this will clear after about 5 days. The ingredients will form a powdery layer on the liner face for a few days after adding.
Important: As with most water additives, the pond should have a good level of oxygen saturation when using this treatment.

For optimum results use in water temperature of more than 10 degrees centigrade.
During and after applying, wash hands, and store the product in a dry place away from the reach of children.
The introduction to the pond of any chemicals or treatments should be at least 10 days from the application of Blanket Answer.
Blanket Answer will start to work immediately but may take several days to kill all the existing blanketweed in the pond.

Use 10 grams per 125 litres (28 gallons) - the enclosed scoop can be used. 1 scoop = approx 400 litres (90 gal). Can be increased as required with no adverse effect. For health & safety advice see bottom of the page.
Special Note: Most users of Blanket Answer have found that after one dose no more has been required. But in the unlikely event, more can be added later if needed.
Other sizes available:
200g tub will treat ponds up to 2500 litres
500g tub will treat ponds up to 6250 litres
2kg bucket will treat ponds up to 25000 litres
4kg bucket will treat ponds up to 50000 litres
Treatment Details
Total Bottle Treats
10000 Litres / 2200 Gallons
Dosage
10g per 125 Litres (28 Gallons)
Treatment Frequency
2-3 Treatments per Year
Switch off UVC
No
Minimum Water Temperature
10⁰c
Suitable for Sturgeon and Orfe
Yes
Tags: Blanketweed Treatments, wildlife ponds,