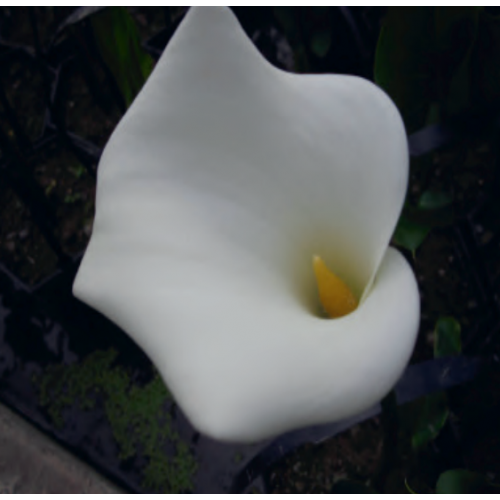 Arum Lily (Zantedeschia aethiopica) - 1L
Product Code: Plant Marginal Arum Lily - 1L
Arum Lily / Calla Lily
Zantedeschia aethiopica 'Crowborough'

Glossy, arrow-shaped leaves, large, white arum flowers with a yellow spathe. Harmful is eaten, and the sap can be an irritant to skin and eyes.
*On paper this plant cannot survive the frost, however here at Wayside we have a cluster of Arum lilies in the ground by the river which were planted many years ago. The plants are thriving and flower each year. To avoid any risk of losing this plant in a harsh winter however, bring it indoors and position on a sunny windowsill to enjoy as a houseplant whilst there is risk of frost outside.
The recommended depth in water is calculated as the distance between the top of the basket and the water surface. Therefore "0" would be the basket rim at the water surface.
| | |
| --- | --- |
| Plant Type: | Marginal / Damp Ground |
| Recommended Depth: | 0-20cm |
| Max. Height: | 60-90cm |
| UK Native: | No |
| Good For Pollinators: | No |
| Winter Hardy: | No* |
| Position: | Full Sun Only |
| Flowers During: | June - August |
| Growth Speed: | Slow |
| Basket Size: | 1L |
This is available for posting as well as Click & Collect. Please note that the foliage may be trimmed on postal orders to safely fit the plant(s) in the box.
Postal orders containing plants despatched on Mondays (Tuesday if bank holiday). Click & Collect plant orders are available for collection the next day.
We have a broader range and more established plants available for purchase at Wayside during shop opening hours. Aquatic soil/compost is only available instore and via Click & Collect due to weight.
For larger orders, or if you are interested in any pond plants that are not currently on the website, please get in touch and we will do our best to accommodate your request.
Tags: Plants, Marginal, Bog Garden, Damp Ground